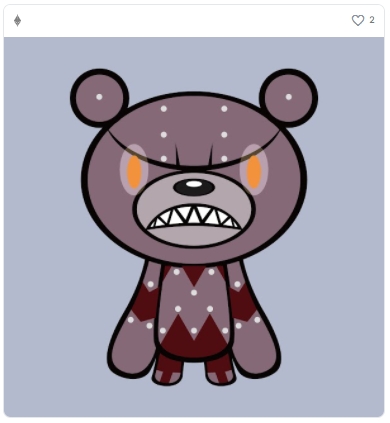 またNFTのお話になってしまい、申し訳ないのですが、
この上のBaby KNUCKLE BEAR IRON BERSERKERというNFTを2月9日に0.05ETH(現在のレートで$150くらいなので、日本円で16000円くらい)で
販売しました。 即完売をしたのですが、NFTというのは購入者が、値段をあげて他の方へ販売をすることができます。(転売のようですが、
転売屋さんのやってることとは違い、この行為はNFTの業界内では作家の価値をあげてくれる行為になっています。)
購入者(ホルダー)が値段を上げて販売する行為を二次流通というのですが、
昨日、この絵が二次流通で売れました。
ホルダーさんが付けた値は、0.4ETH(現在のレートで13万円)
16000円で販売したNFTが、13万円の価値になってしまいました。
この13万円のうちの10%は作者にマージンとして戻ってきます。(ここが転売と違うところでもありますね)
ということは、私には13000円ほどバックして戻ってくるということに
この絵が13万円の価値になったことにも驚きですが、
この価格で購入してくれたホルダーさんは、私のこの絵に13万円の価値があると感じてくれたというのもかなりムネアツです。
なかなか日本でデザイナートイの分野で頑張ってきていますが、
勿論日本のファンの方々にはかなり応援して頂いて感謝しています。
やはり、軽く見られがちなんです。日本という市場は。土壌がそうさせているのか、政府の方針なのか・・・
漫画、アニメなどの分野も世界に劣らない独自の発展を遂げていて凄い産業ですけど、
賃金が低かったり、あ~アニメね!みたいななんか軽く見られていたりっていうのを感じたりしないでしょうか?
デザイナートイなども同じで、玩具作ってんだーとか心無いことを言われたりしますが、
海外に行くと反応自体違って、このフィギュアを作ってくれたんですか!?私の人生に多大に影響を与えてくれています!とか
初めてアメリカへ渡った時に感じた、何?この奉るような接され方?日本ではそんなこと一回もなかったけど、ARTの表現者の地位って高いんだ!
という感覚を再びNFTで感じている気がします。
NFT初めてまだ1週間ちょっとしか経ってないですけど、のめり込みつつある自分がいますw
【English】
I'm sorry to be talking about NFTs again, but
I sold the above NFT, Baby KNUCKLE BEAR IRON BERSERKER, for 0.05 ETH (about $150 at the current rate, so about 16,000 Japanese yen) on February 9.
It sold out immediately. It was sold out immediately, but NFTs can be sold to other buyers at a higher price.
(Sounds like resale to me. This is different from what resellers do, but it is an act that raises the value of the artist within the NFT industry.)
The act of the purchaser (holder) raising the price and selling it is called secondary distribution.
Yesterday, this painting was sold in the secondary distribution.
The price given by the holder was 0.4 ETH (130,000 yen at the current rate).
The NFT sold for 16,000 yen is now worth 130,000 yen.
10% of this 130,000 yen will be returned to the author as margin. (This is the difference between reselling and selling.)
This means that I will get about 13,000 yen back.
I'm surprised that this painting became worth 130,000 yen, but I'm also very excited that the holder who bought it at this price felt that my painting was worth 130,000 yen.
I've been working very hard in the field of designer toys in Japan.
Of course, I am grateful for the support of my Japanese fans.
After all, the Japanese market tends to be taken lightly. The Japanese market tends to be taken lightly.
I don't know if it's the soil or the government's policy…
Manga, anime, and other fields have developed in a unique way that is second to none in the world, and are great industries.
However, the wages are low, and people take it lightly, like "Oh, anime! But don't you feel that the wages are low, or that people take them lightly?
It's the same with design toys. People say things like, "You're making toys?
But when I go overseas, the reaction is different… "You made this figure? You've had a huge impact on my life! And so on.
When I first came to America, I felt, "What? What was it like to be treated like a servant? This never happened to me in Japan, but I felt again at NFT that ART has a high status of expression!
It's only been a little over a week since I started NFT, but I find myself becoming more and more absorbed in it.