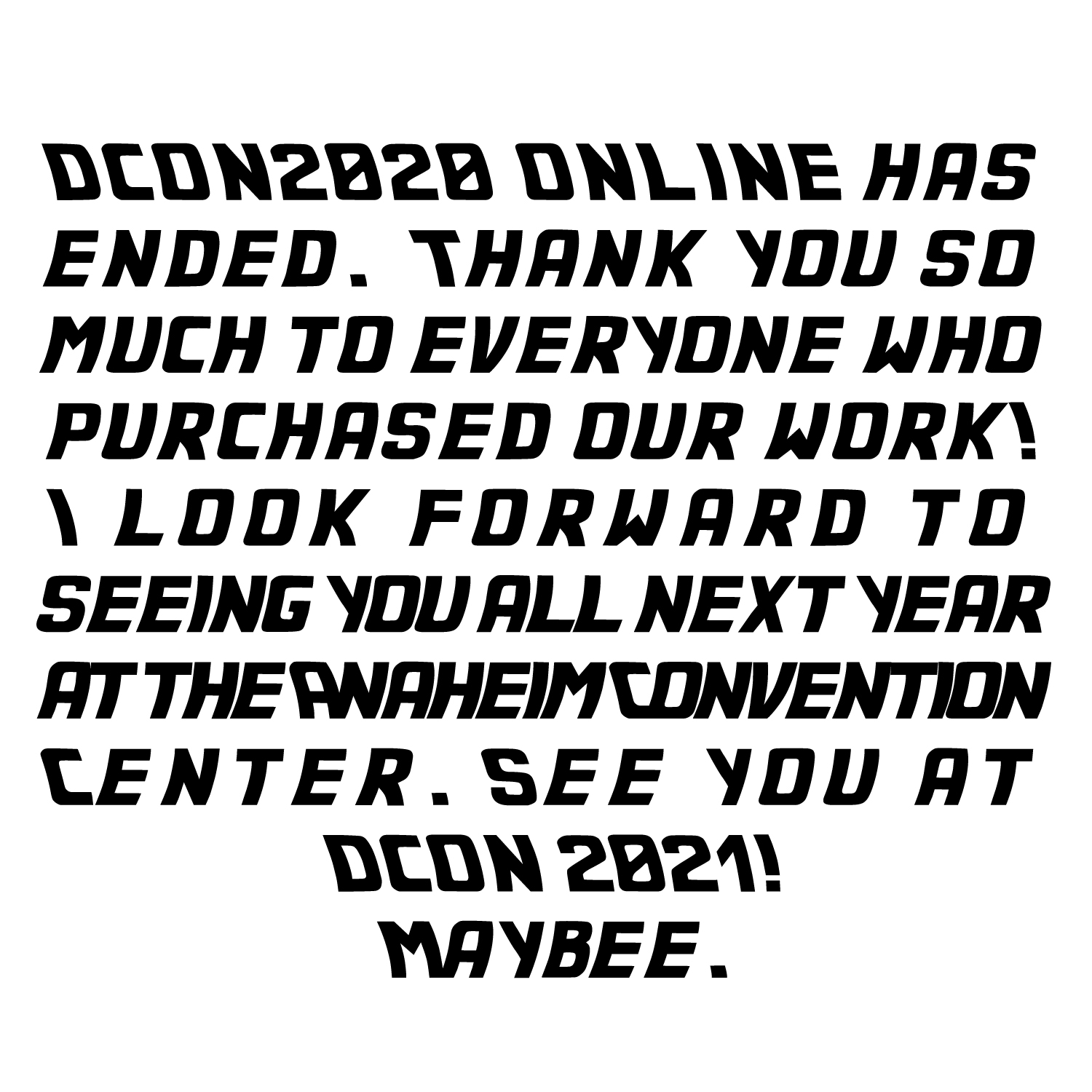 今年はイレギュラーなことばかりでしたね。
コロナウイルスの影響で。
オンラインイベントになったり、台湾はコロナウイルスを抑え込んでいるので台湾関係者だけでの開催になったり。
そんな中、手探り状態でもイベントを開催した、DCONの主催者、チームには本当に感謝です。
いろいろなトラブルはあったと思いますが、無事に三日間オンラインでのイベントを成し遂げたことに感謝しております。
時差の問題や、現地に赴けないということもあり、参加している実感や体感はないのですが、
できうる限りDCONが盛り上がるようにやってきたつもりです。
月曜日の早朝、長女が英語でライブストリーミングを日本時間のAM3:00から1時間行いました。
(アメリカ時間でイベント最終日のオープンの10:00に相当します。)
チームメンバーの作品の紹介、現在アメリカへ向かって輸送されているなど詳しい情報を英語でアナウンスしておりました。
コロナの影響もあり、EMSがストップしているために使った事のない運送会社でなんとか輸送したのですが
荷物が間に合わないメンバーもいました。
本来ならば、DCON終了の翌日はアナハイムのDisneylandに行っている頃ですが、
来年こそはアメリカへ行って楽しみたいと思います。
今回、3DRETROとQpopで我々の作品をご購入頂いた皆々様に深く感謝申し上げます。本当にありがとうございました。
It's been a lot of irregularities this year.
Due to the coronavirus.
We had to hold some events online and some events were held only for Taiwanese people because Taiwan has suppressed the coronavirus.
I am very grateful to the organizers and the DCON team for holding the event in such an unpredictable situation.
I'm sure that we had a lot of problems, but we are very grateful for the fact that we were able to hold the event online for three days without any problems.
Due to the time difference and my inability to go to the site, I don't have a real feeling or experience of participating in the event, but
We've been trying to make DCON as exciting as possible.
Early Monday morning, my eldest daughter livestreamed the event in English for an hour starting at 3:00 AM Japan time.
(This is equivalent to 10:00 AM US time when the event opens on the last day.
She announced in English the team members' work and detailed information about their work, which is currently being shipped to the US.
We had to use a shipping company we've never used before to transport the artworks because of the corona, and EMS was stopped.
Some members were unable to get their bags in time.
Normally, the day after DCON ends, we'd be at Disneyland in Anaheim.
We hope to go to the US next year and enjoy it.
We would like to thank everyone who has purchased our work from 3DRETRO and Qpop. Thank you so much for your support.